MORE LAYOUT

DIMM Slots galore!!! 4 of 'em.

Asus was cool enough to place 4 DIMM slots on the P3V4X where you'd normally only find 3 on other boards. They can support up to 2Gb. of PC133 or HSDRAM memory. You can of course use your PC100 modules since you can actually adjust the speed at which your memory runs. You can set your memory to run at either +33, -33, or the same as your FSB. Why would you want that option?

Well, say you're running a processor capable of using the 133Mhz. bus speed, but your PC100 can't run that fast. Big problem, right? Not really. Just set your memory to run at -33 and your processor at 133. Voila!!! You get to use your PC100 memory and save the cost from having to upgrade your memory to PC133 like if you didn't have this option. I think you guys can figure out the rest.

Note that this is really a part of the Via specifications and not really that of the P3V4X so you'll normally find you can do this with any Via Apollo Pro 133/133A based board. It's a real nifty feature.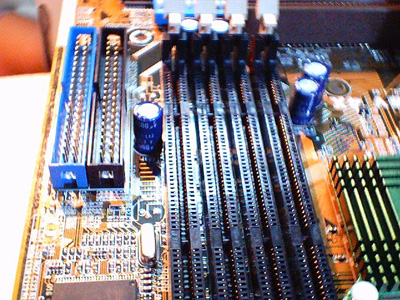 Color-coded IDE headers. A nice touch.

Aside from that, Asus also decided to color-code the IDE headers which makes it a lot easier to figure out which the primary or secondary is. Especially useful in tight cases where you wouldn't be able to read the cryptic prints on the PCB or if you're like me who always loses the manual.

They also didn't go cheapo on us by adding a heatsink on top of the Via chip. Something other board designs like that of the MSI 6309 missed out on. That chip runs pretty cool though so I don't think that a heatsink is really required.