TABULATION & CONCLUSION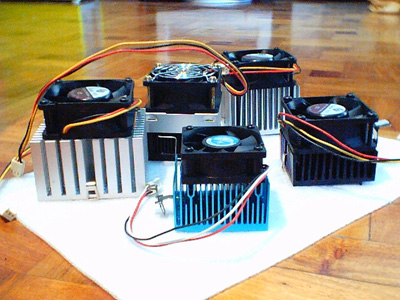 Let's see how these units performed from a tabulated perspective.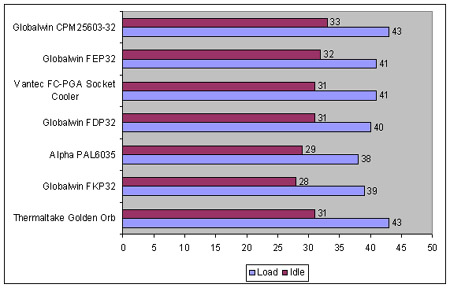 UPDATE: THERMALTAKE GOLDEN ORB
Thermaltake's Golden Orb performs almost along the ranks of Globalwin's CPM25603-32, which is an old favorite of mine. Though not designed for PPGA processors, it's still a good performer. However, I advise using this cooler ONLY WITH FC-PGA processors as the specifications indicate.
(End Update)

In the performance category, the Alpha PAL6035 and the Global Win FKP32 fight it out for top spot. I would think that this should be considered a tie. The performance difference is really too small to call. So, for this roundup, it's a tie between the Alpha PAL6035 and the Global Win FKP32.

The other units didn't do too badly. The Global Win FDP32 gave good numbers as well as the "small but terrible" Vantec FC-PGA Socket Cooler, gaining them 3rd and 4th places respectively.

So. For the top performers in the bunch, it all boils down to the other issue. Cost. With the Alpha PAL6035 setting you back by about Php 1,800.00 compared to the Global Win FKP32's mere Php 1,000.00, it's clear who the winner really is. Though there is really no difference in performance here, the cost is certainly a large factor. That's a pretty big price gap if you ask me. All the Alpha really has going for it here is the coolness factor which then turns into bragging rights since the PAL6035 really is aesthetically superior to the FKP32. It looks friggin' cool!!!

To conclude this roundup, those of you who DO have the extra cash to spend, I'd recommend the Alpha PAL6035 just for the sake of coolness. For those on a tighter budget, go for the Global Win FKP32. It isn't as cool looking but it won't hurt your wallet as well.

You can purchase the reviewed units from Monster PC. This store only caters to customers located in the Philippines.

Please send all comments and suggestions here.