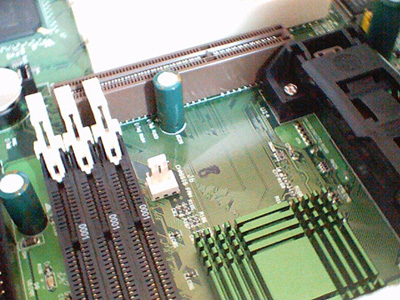 The Chassis Fan header is in a strange place.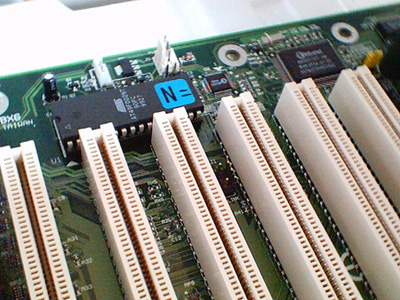 So is the PSU Fan header.

I also noticed that it has 3 headers for fans which is a real blessing for overclockers since they typically use more fans. My only gripe about those is the placement. The header for the CPU is placed pretty well on the right side of the CPU area so there aren't any problems with that. The one for the PSU is placed behind the PCI slots. The one for the Chassis fan is placed behind the DIMM slots in the frontal area of the CPU. This makes routing fan cables a pretty tedious task.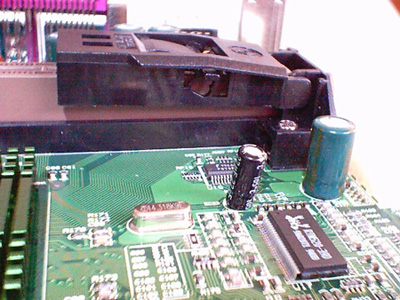 This capacitor is too tall and may obstruct big heatsinks.

Another bad for this mobo is this capacitor located in the front of the CPU slot. It's a tad too tall for my liking. You aren't gonna fit some of the bigger heatsinks into this thing like the Vantec P3D5030 for example. The Alpha P3125 has no problems though.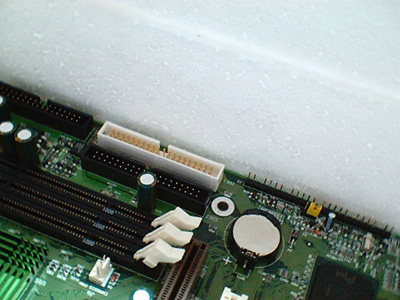 Color-coded IDE headers.

One nice feature too is that they color-coded the IDE headers so that you'll know which one the primary is without having to read those cryptic prints on the PCB or grab a manual.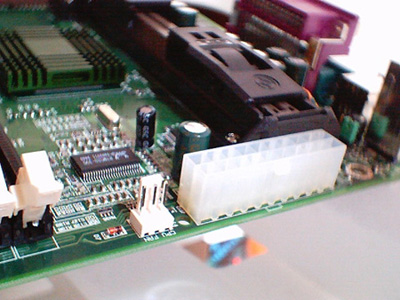 The ATX connector isn't badly placed but it could be better. Still, this is a nice change if you're used to running that thick ATX cable over the CPU to help create some spaghetti grubbies and block off airflow.