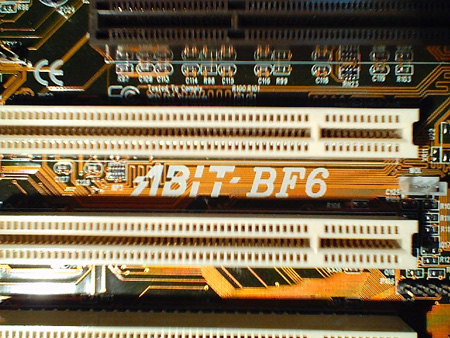 To conclude this review, I'd like to say that the Abit BF6 is definitely one of the better BX-based motherboards out there. It has proven to be quite stable and has a lot of potential for overclocking. With the right hardware and enough knowledge about overclocking, this is certainly a formidable platform to build a 440BX-based system on (or BX133 in this case). It offers excellent performance, as well as reliability. Expandability is also a boon for people planning on packing their systems with several components.

Average street price for this motherboard is at Php 5,050.00 (US$ 120.00) so it isn't cheap. I can safely say that the performance DOES justify the cost though. Go get one and you'll feel that your money was well spent.

I'd like to commend Abit for coming up with a good product and am looking forward to more of the same quality in the future.

I give this motherboard the thumbs up.

I'd also like to thank Axis Global for giving me the opportunity to try this board out. Big PROPS guys!!!

The Abit BF6 can be purchased from the following stores:

PC Express: Gilmore Ave., New Manila, Q.C.

PC Options: Gilmore Ave., New Manila, Q.C.

Villman: All Branches

All Electronics: Door 1, Manuel S. Cea Bldg. Lapu-Lapu St. Legaspi City
Tel:(052)820-0182/visit email: aae@globalink.net.ph

Diamond Dreamchum: Unit 4 Corporate House Bldg., 239 Boni Serrano cor.
Benitez, Q.C.
Tel:411-5931/725-0173/414-8462

Dreamchum: 1906 C. Taft Ave. cor. Remedios, Malate, Manila
Tel:523-7358/536-2816

Acenet: 2nd Floor 8, Virramall, Greenhills
Tel:725-0759

Computer World: jaltan Bldg. cor. Bonifacio St. cor. C.M. Recto Ave., Davao
City
Tel:(082)300-2558/221-3753

CBX: Suite 211 Friendship Bldg., Subangdaku, Mandaue City
(032)253-4866/253-0602

5AZ Computer: 1575 Espana Blvd., Sampaloc, Manila
Tel: 781-6712/781-6718

Concept Computer: Cinema Level, SM City, Divisoria Road, Iloilo City
Tel:(032)337-8476

Perfect Byte: 50 West Ave., Q.C.
Tel: 911-5344/911-5320

Pro Data: 129 Scout Gandia St., Q.C.
Tel: 922-0901/927-7499

NexGEN Microsystem: Unit 23 A&B Gilmore Ave. cor. Aurora Blvd., New Manila, Q.C.
Tel: 725-4383/725-4385

TQM: 2456 Taft Ave., Manila Tel: 526-4503

Universal Computer: J 3 Avocado Lane 2nd Flr., Virramall, Greenhils
Tel: 721-2407/724-8391

Computer Farm Alabang: 3rd Floor Festival mall., Filinvest, Alabang
Tel: 850-3625

Computer Farm Shangri-la: 6th level, Shangri-La Plaza
Tel:637-5183

Send comments and suggestions here.
Editor's Note: The list of stores is in no particular order.